Suburbicon had all the elements of a decent movie:
Good Cast- CHECK
Infidelity- CHECK
Murder- CHECK
Race Riots- CHECK
Sex- CHECK
George Clooney directed Matt Damon, Julianna Moore, Leith M. Burke, as well as a bunch of other great actors in this mediocre, at best, convergence of two stories based in cookie-cutter America.
Story one revolves around an African American family who moved into an all white neighborhood terrorized day and night by the teens and neighbors who apparently have nothing better to do with their lives.  I wonder…what is worse? A peaceful, colored family moving in next door or the constant ruckus caused by ignorant white people trying to force that family out?  Apparently this portion of the movie is inspired by the  Myers family who moved into the same situation in the 1950's in Levittown, PA.  This story branch lacked any depth as we were left with no sense of who this family was or how they were feeling through the whole thing.  It was just a bunch of senseless noise.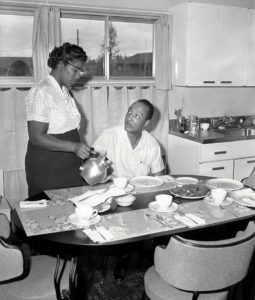 Story two is about The Gardners, the lifeless, white folk who live behind the "Mayers".  After a couple of hoodlums break in and chloroform the family, the wife dies only to have her sister take her place in the family role as mother and…wife.  Soon insurance adjusters are calling foul and the hoodlums are stalking the patriarch for their cut of the insurance money.  It's all very dull and unjarring.  Maybe that is how it is supposed to be presented?  I don't know, but I was bored to tears.
I went into Suburbicon with high hopes that were quickly dashed within the first 30 minutes of the movie.  Billed as Crime/Drama/Mystery, I expected too much.  Put this in your Do Not Watch list.  Seriously.